A couple years ago I decided to make an upholstered headboard for our bedroom, so I went online to learn how. The process was fairly simple and straight forward... but I couldn't find a good tutorial on how to install it. After much brain-storming, I finally figured it out myself, and my solution was really simple- so I'm sharing it with you today!
Begin with a... [drum-roll please]... hollow core door. [I know, enough with the doors already!] You could use an MDF Board instead, but these doors are soooo light and easy to handle, they are also thicker than MDF so that's another bonus. [And this was the leftover door from my
kitchen shelves
... so it was re purposed, reused and all at no additional cost!] You'll want to begin by cutting your board down to the size you want. As long as your door is at least as wide as your bed, you really can't go wrong. [and BTW, there's no need to go all the way to the floor... just go to about where the matteress meets the boxsprings and you'll be fine!
Then you'll want to use batting for softness. Once again, it's up to you on what thickness you use... you can't go wrong here either so it's up to you.
Finally, choose some fabric that makes you happy. I chose a woven chenille that is nice and soft, but adds texture to the space. Make sure to get enough batting and material so that you can wrap your board and have at least 2 inches on the back to staple and secure.

Get everything lined up and start stapling the back. You might want to staple your batting first, then go back and staple your fabric. I also suggest stapling one side, then pull your fabric tight and staple the opposite side to make sure you have zero wrinkles. [PS. If you have a pattern or lines of any kind, please MAKE SURE the fabric is straight!] Get all of your sides completed... leave the corners for last [cuz' they're soooo much fun...].
This is what your corner looks like once all sides are stapled... See all that extra fabric? Grab the corner of it and pull it all toward the center diagonally.
It will look a little somethin' like like this... Pull it tight and then start stapling it down.

Like this.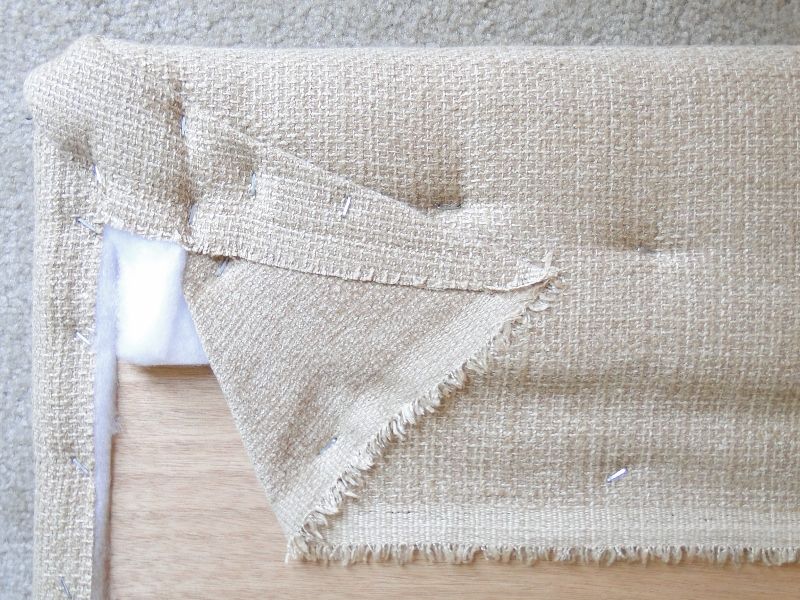 The back of your headboard might not be gorgeous, but we will just worry about what the front looks like [which will be gorgeous, darling!]
Now it's time to mount your headboard! I found this "cleat" from the picture hanging department at a large hardware store [I believe this particular one came from Lowes]. This one is designed to hold up to 300 pounds [so my 10 pound headboard should be secure!]. I chose it because it was the longest option, so the proportion was better. Then install the bottom section onto your wall [make sure it's level!!!] and the top section onto the back of your headboard [once again, LEVEL!].
You can see here how it works. The cleat on your headboard will simply slide down behind the cleat on the wall. I love it because you can easily remove your headboard if necessary, and [best part] this system gives you lateral lee-way [meaning, that you can slide your headboard to the left or right if you failed to install it perfectly centered [of course I centered mine perfectly... if you've ever read any of my posts you'll note the sarcasm in that statement!]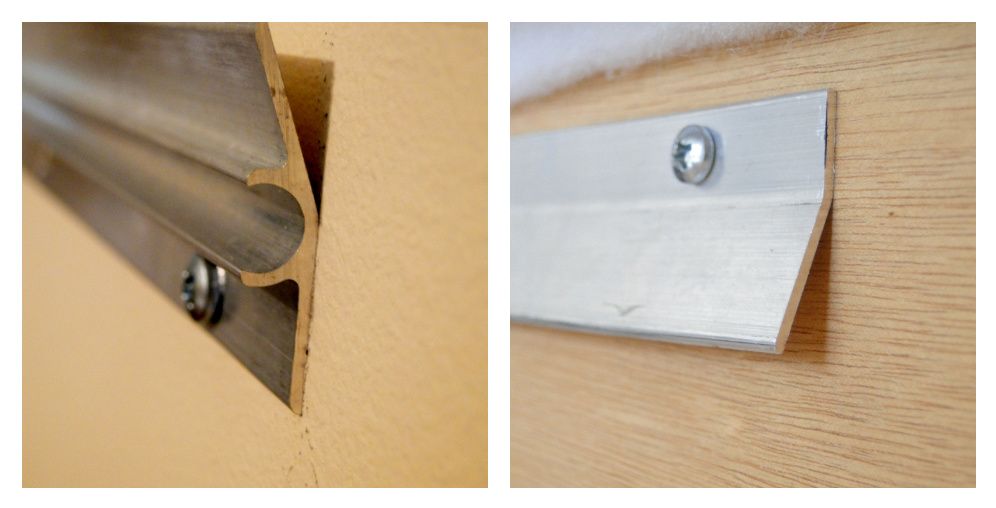 In the end, you'll get a nice, clean look for very little $ [this was under $30 since I used my leftover door]. And whenever I decide to switch my fabric [what, me change my mind? inconceivable!] it'll be an inexpensive and quick switch! Now- go forth and make your own :)