I'm guessing that we all have a faux wood laminate bookcase somewhere in our home. I'm guessing that we all want to paint it and make it look better [and I'm positive that we're all scared to...]. Well, this is how I successfully said "good-bye" to that [less than fabulous] faux wood grain and gave my bookcase a serious upgrade.
I decided to replace the existing shelves for a few reasons. First of all, the old shelves had begun to bow under the weight of all my books [and clutter!]. Secondly, I wanted a stronger shelf to avoid bowing in the future. And lastly, I wanted it to be purr-dy, so I thought a thicker shelf would give my bookcase more of a custom look [and by custom, I mean "not purchased from Wal-Mart!"].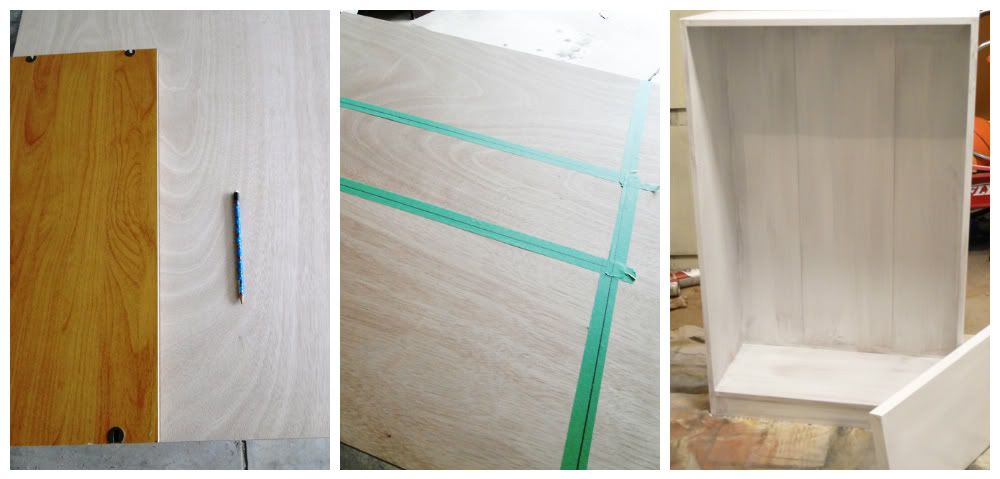 1. In order to create those thicker, stronger shelves I took a hollow-core door [like the one used in my DIY
Floating Shelves tutorial
] and traced the existing shelves onto it [make sure that the front of each shelf is placed on the finished edge of your door so that you have a nice, finished edge!]. Then I taped over my pencil lines and re-drew them on the tape. That prevents the wood from splitting. Finally, I used a circular saw to cut out each shelf following my traced lines.
2. Begin the painting process by using a deglosser like Porter Paint's Prepare-It. It takes the place of sanding, so it's great for prepping laminate surfaces.
3. Use a really good primer [one specifically designed for glossy surfaces is the best] I used Kilz. Remember... the better your primer, the better your final results.
4. Now. With that said... I have mentioned before in my
Painting [over] Faux Wood
post that there are two types of faux wood. One is a veneer placed over particle board [that can be painted], the other is essentially plastic that looks like wood [that pretty much can't]. Well, the back of my bookshelf was basically the plastic stuff... so I went ahead and attempted to paint it anyway [rules are made to be broken, right?! [wrong]]. Therefore, when it was all dry and beautiful I taped-off my [super awesome] design to paint a [totally amazing] decoration... and the tape totally ripped-off the paint [super not awesome].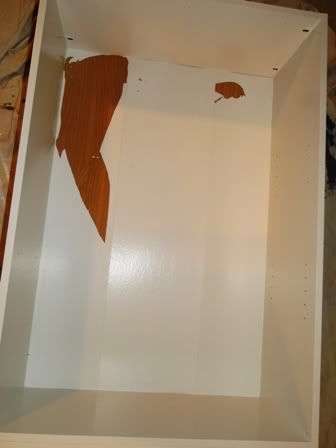 5. I chose to go ahead and repaint it [as shown below]. Then I purchased a set of wall decals. These were perfect because they essentially covered the entire surface [which means that it is protected now] and I could arrange them as I wanted [I did have to peel and rearrange one or two... which was terrifying. But the paint stayed so it's not completely worthless!]. It was much less expensive than wallpaper, and it was WAY easier too, so I highly recommend using them!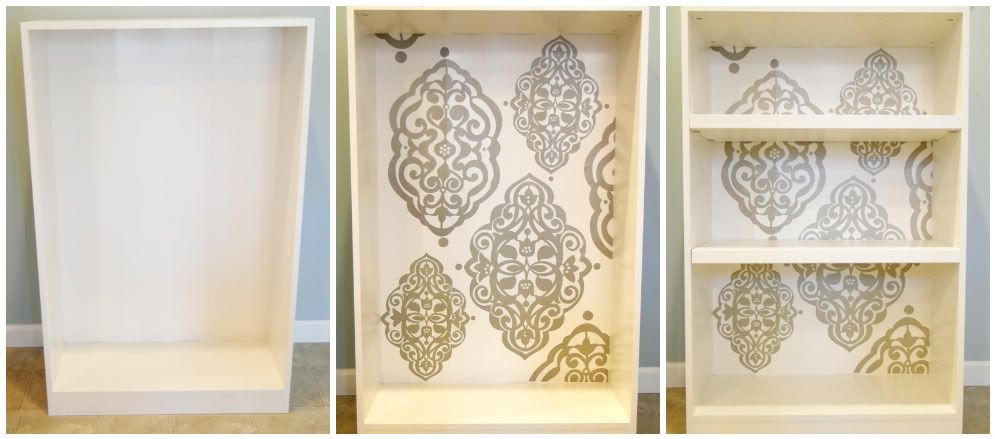 6. Next, in go those fancy new shelves, and it's a whole new bookcase!
7. Do your happy dance, stand back and just TRY to fill it up with books that will cover-up your beauty, because that's actually the worst part of this entire project!