[Question:] What do you get when you combine an old bookcase, hallow core door, bed sheet, old framed poster, some homasote board and baskets?
[Answer:] Pure Organziational Life-Altering Bliss!!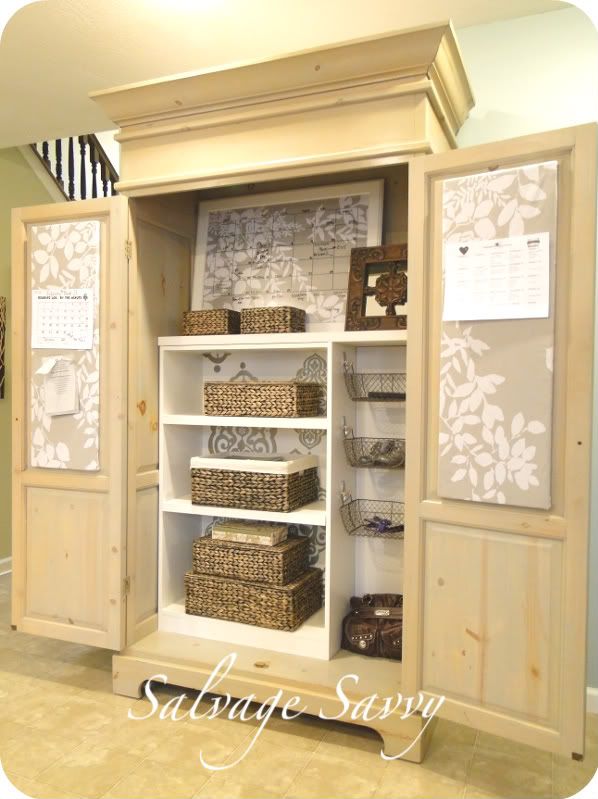 Let's take a moment for a quick little journey back in time and remember what this armoire [which I affectionately refer to as
My Brain
] looked like a few weeks ago: I know. Yikes.
Can I just tell you that getting my daily life "stuff" organized in a beautiful way has dramatically improved my quality of life [not to mention my sanity]?!
Here's WHY it works for me:
Each door has a bulletin board to keep all of the kid's school calendars/permission slips/sports info/invitations, etc. You know, all that stuff [also known as crap-o-la] that's important but never has a good home [until now!].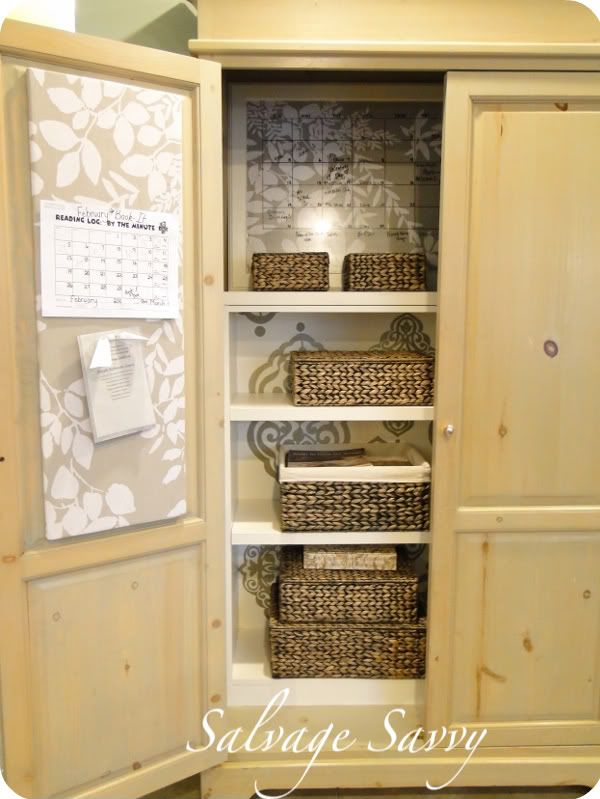 The Giant DIY Dry Erase Calendar that I showed you how to make has been WON.DER.FUL. All activities are right there for me so see, and I'm a visual person, so having it "large and in charge" is working for me. Plus, my new obsession is preparing 7 meals at once and then freezing them... then I can just dethaw one and put it in the crock pot in the morning and dinner's done! That's where my weekly dinner menu has been perfect. I wake-up, see what is on the menu for that day, and if it's a crock pot meal then I see it early enough to get it cooking [as opposed to going, "D-oh, I meant to do a crock pot meal today and it's already 4:00..."]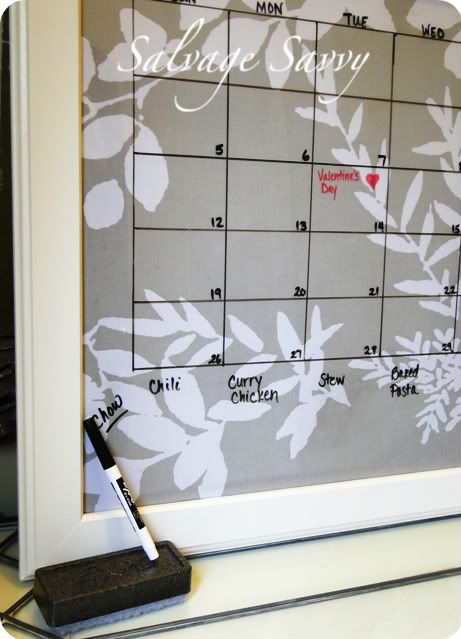 Next, I bought baskets, baskets and more baskets. I took all of my junk out of the armoire and grouped it according to function. Then I went and purchased the correct size basket needed for my groups.
The bottom basket holds techi stuff [camcorders, cameras, etc].
The smaller bottom basket holds mail stuff [envelopes, cards, address books, stamps, etc.].
The open basket in the middle holds my smaller recipe books. I don't use them all that much [thanks to the Internet...], but when I need them, I want them handy [and when I don't need them, I want them hidden!].
The basket with a lid... Well, let's just say that's "mommy's" basket. I love lids, and here's why: Is it perfectly organized inside as if it were owned by Martha Stewart herself, or is it filled and stuffed with random junk. I'll never tell [it's junk].
The two smaller baskets on top are for The Dry Erase Calendar markers and my Super Hero Hubby's keys, wallet, etc. All that good stuff that jumps out of his pockets when he comes in the door.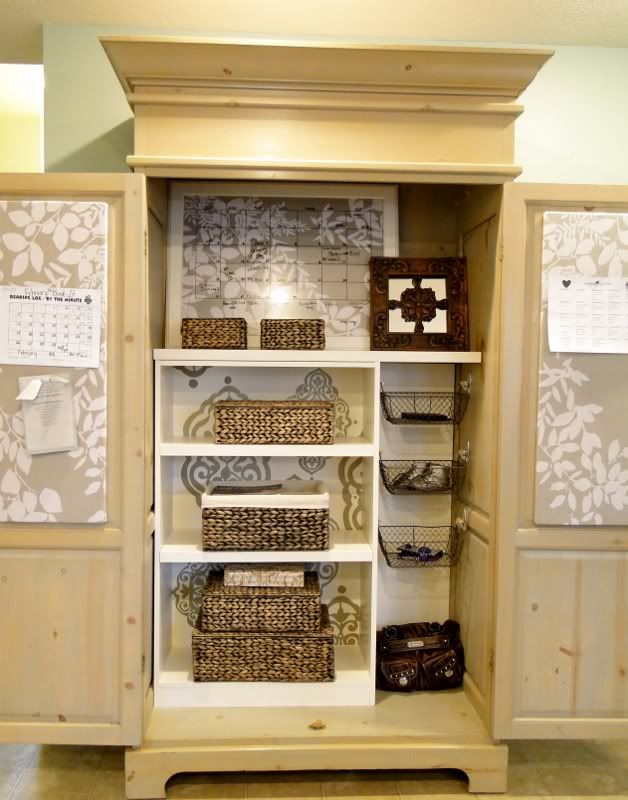 Finally, the little wire baskets are my kids'. Each has an assigned basket, and when I find something of theirs lying around the house [which happens every day, all the time, always always always] I put it into their baskets and they can put it in the appropriate place at their convenience [yea right, they put them up when I start threatening :)] And last, but not least... my purse has it's own little home. No fancy basket, just a spot to toss it and/or grab it on the run!
And that's it! Every item is 100% functional and 100% life altering. Want to know exactly how I put this project together? Read
DIY Organizational Ideas
!!