Hello! Today's Monday (P)inspiration is going to be a little different because [well, for one thing, today is Tuesday, but the other reason is]... I get to show-off this Pinterest-inspired Christmas Candle Chandelier that I made!
Amanda [editor of the Home & Garden channel at Craft Gossip] contacted me and asked if I would be interested in doing a Guest Tutorial for C.G. Well, I thought about it [for about a half a second] and then [squealed and] said "Yes!"
So please head over there and check out how to make this for your home.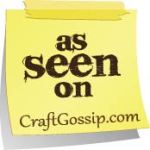 And if you are visiting Salvage Savvy for the first time today, then let me say, "Welcome, I'm absolutely thrilled to have you here!!" Please feel free to kick-back and roam about the blog in search of thrifty decor inspiration!
Now, speaking of being inspired, I want to share with you the (P)inspiration images for this project:
Isn't this soooo pretty [I hunted for a source and never found one, so if you know where it came from please tell me and I'll link it up asap!]. It was love at first sight, so I had to figure-out a way to recreate something similar... but with my own twist, of course!
They are just so very, very pretty. Yup. It's official. I'm in the mood for Christmas now :)