Wooo-Hoo! Link parties are my #1 way to gain exposure here at Salvage Savvy, so every feature is super exciting for me!

First of all, I want to say thank you to Margaret. I just discovered her new blog called Rummage Living... with a name like that, I knew I'd love her blog right away [and I did!] :) I am honored to have my
$8 Lamp Makeover
featured at her very first link party!


It was also featured by Jane @ Finding Fabulous- thanks Jane!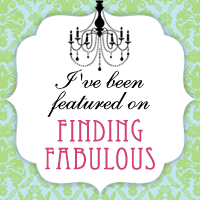 And was also the most clicked link at Domestically Speaking's Power of Paint Party. Woo-hoo!

And Melanie also featured my lamp at Bear Rabbit Bear, which is another blog I have recently discovered! Thanks Melanie :)

And last but soooo not least, I am absolutely thrilled to be featured by SJ @ Homemaker on a Dime! Let me tell you, she gave my Home Office Transformation the sweetest, most detailed feature I've ever received!! You've got to check it out... she even gave it a cliff-hanger ending ;)
Thanks again, ladies!!