Do you have furniture in your house that just needs a little… something? My foyer table was seriously lacking in the "wow" department so I decided to do something about it- which means... [you know what's coming here] time to PAINT!


This is the perfect painting project for the following people:
Any newbie diy-er who isn't sure about this whole "painting thing."
Anyone who has attempted to paint furniture before and, [gulp] vowed to never paint agian.
Any diy-er who just wants to get a project done fast [that's me].

First, you will need to get some spray paint [yes, I said it, s-p-r-a-y paint… it's not just for expressing your love to Billy Bob on the side of an interstate overpass anymore…]. Are you still with me? Good, lets move on.

Here's what you need:
Sand paper
Spray paint primer
Spray paint
-I used ivory bisque [I know, I'm taking design to the next level with that bold choice]
-I used 3 cans for this project
!!Important!! Get more paint than you think you'll need because nothing de-rails a diy-er like running out of paint in the middle of a project…not that it happened to me [it totally happened to me].

Here's what you do [this is the rated E part]:
Lightly sand the furniture- sand in the same direction as the wood grain
*Apply primer coat
*Apply multiple base coats- please remember- you want several light coats- don't over spray or you'll get drips, runs [and general heart-ache]
It took me three light coats to get everything even & wonderful on this piece.

*For the best results, read the directions on can & then actually follow them [On a related note, did you know that when making a Betty Crocker cake if you take the time to actually beat the batter on low speed for 30 sec. then medium speed for the full 2 minutes, as directed, the cake will actually be moister & more delicious?? True story].

Now, if you don't want or need to embellish your item, then you're done… it's that easy! Spray paint dries really quickly which means that you can do an entire project in only a few hours. Also, upon completion you get a good, strong finish- which means that it doesn't [usually] chip or scratch as easily as regular paint sometimes does. However, I will caution that if you are doing a large, totally flat surface [table tops, the side of a large dresser, etc.] it is difficult to get a really nice, even finish with spray paint [that's my professional way of saying "don't use it"].

Alright, so if you get done painting and then step back, take a look at your furniture... and still just want… more [like me], then here is the second half of the directions [this half is what put the P in Pretty Easy!] .




What you need:
Water-based paint of your choice for stencil design(I used a titanium leafing paint)
Latex paint (in a similar color to your spray paint base color)
Tintable Glaze
**Stencil
Paint brush
plain white paper


What you do:

Stencil or paint your design on the drawers [it doesn't have to be perfect, the glaze will hide little flaws].
Mix your base color with the tintable glaze (2 parts glaze to 1 part paint).
Once your design is dry, then brush on the paint/glaze mixture completely over drawer fronts.
Wad-up your paper into a ball and pounce strait up and down (don't swirl or wipe). This will remove the paint and reveal your [hopefully] beautiful stencil job underneath. When your paper gets too much paint on it, then get a new, fresh piece because your goal is to remove the glaze mixture with the paper. Keep pouncing until you see the texture that you want.

And that's it! See, [pretty] easy :)







*Here's how the entry table looks now with it's Thrift[tastic] Makeover!
**Out of full disclosure I'll tell you that I free-handed the zebra stripes [too cheap to buy the stencil]; however, if you aren't comfortable doing that, then it's worth the $$ to get a stencil.
Time to link-it-up!!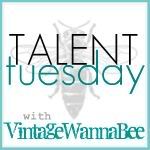 http://www.theshabbychiccottage.net/
http://www.somewhatsimple.com
http://firefliesandjellybeans.blogspot.com/
http://todayscreativeblog.net/